A 1994 campus time capsule rediscovered
By Lynn Prime and John Müller
Twenty-seven years ago, Sonoma State University's Alpha Kappa Alpha sorority members were preparing to bury a box in Stevenson Hall's courtyard. Clear and plastic, with a blue lid, the box contained precious historical artifacts: photographs, items of clothing, tape recordings, even a student diary. The plan was that members of Alpha Kappa Alpha would gather together again 30 years later, in 2024, to open the lid once more to retrieve the items and reflect back on their time at SSU. 
Among the items contained in the box was a letter of intent. Signed by almost a dozen student groups of color, including Movimiento Estudiantil Chicano de Aztlán* (M.E.Ch.A.), Asian Pacific Islanders Organization, the Intercultural Center, and the Pan African Resource Center, it reads: "The contents . . . will represent the contributions made and obstacles overcome by people of color." 
What the members didn't know was that by 2024, Alpha Kappa Alpha would no longer have a chapter on SSU's campus, and Stevenson Hall would undergo a full renovation. In April of 2021, construction site foreman, Laszlo Vincze of Truebeck Construction and his excavation crew stumbled upon an unexpected find: a clear plastic box with a blue lid filled with deteriorating items, and considerable mud and water, buried in the Stevenson Hall courtyard. They'd found a time capsule.
Vincze delivered the time capsule to the SSU library where its contents were carefully unwrapped, documented, and digitized by the library's Special Collections team. The effects of time and weather left many of the items moldy, some unrecognizable. Yet the team, led by digitization specialist John Müller, was able to uncover many of the mementos curated by SSU students in 1993 and 1994: group photographs of students, SSU branded sweatshirts, fraternity labeled bumper stickers. 
Tasked with digitizing the aging archival materials, Müller knew he would have to wear protective gear to protect himself from fungal growths, but, he didn't mind based on the rarity of the items.
"When I first heard that a time capsule had been found, I expected dusty relics and mementos from decades ago, but instead these were thoughtful and evocative chronicles of another time — and not so different from our own," he said.
Among the artifacts was a commencement speech application composed by Alpha Kappa Alpha member and organizer of the time capsule project, Sandra Jackson-Dumont, who is now director and CEO of the Lucas Museum of Narrative Art in Los Angeles.
In her 1993 time capsule proposal to then-University President Ruben Armiñana**, Jackson-Dumont wrote: 
The purpose of this project is to sustain the history of students of color and their abundant contributions to the livelihood and cultural enrichment of Sonoma State University. This Time Capsule Project will inspire future students and will make them aware that people of color excel and succeed in spite of never-ending obstacles. It will be a temporary home for glimpses of the past and hopes for the future. Various organizations of color will be invited to contribute items to the capsule that represent today's society and the role of the ethnic population in it. Also, there will be contributions that exhibit the effects society has had on people of color. 
President Armiñana approved the project on January 4, 1994.

In uncovering the time capsule, the campus has accessed archival records of immense importance — personal histories, journal writings, records of the lives and experiences of SSU students of color in the mid-1990s. The students who buried the capsule in Stevenson Hall courtyard in 1994 hoped to provide a guide for future generations, to help current students of color reflect on SSU's past, and further examine where we are today.
In a 47-page Yolloamoxtli document by M.E.Ch.A. found among the artifacts, the focus on racial justice was clear: 
In hope that the MEChistas of this and other campuses have something on paper to refer to in time of guidance. We have a responsibility to ourselves (staying in school and graduating!), our Tierras (Aztlan), our culture, and to our future Raza — our children. We must educate all Raza about our her/history and the contributions our people have made in this continent, our continent. For we are its descendants and the result of its Story.
A series of index cards provided by the Kappa Alpha Psi fraternity brothers stressed the importance of academics among its fraternity pledges: "We would like to let the brothers that read this memo know that: achievement is what you should always strive for."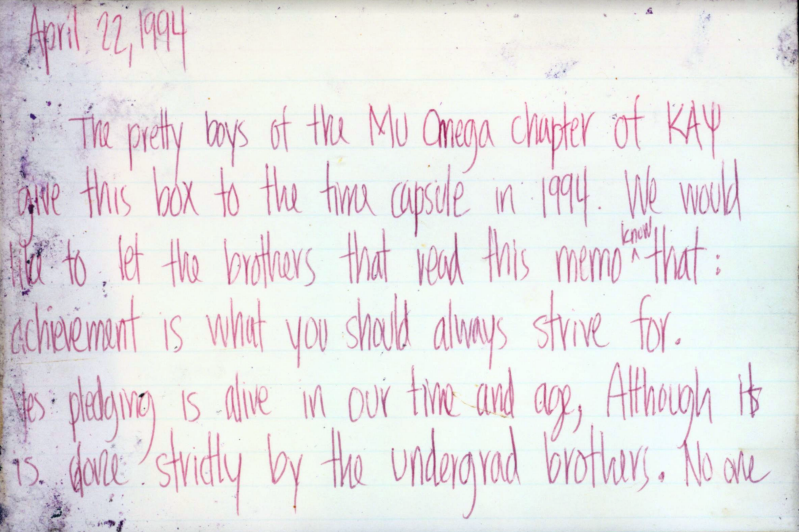 More than a dozen personally inscribed messages, scores of paper photographs of students in 90s garb on campus, poems about a hopeful future, and even an audiocassette of recorded voices from all the sisters of the Alpha Kappa Alpha Sorority, now preserved as a streaming file, were also uncovered in the capsule. 
Special Collections librarian Lynn Prime noted her excitement in being able to recover and archive the items. "I am so pleased the campus has found and been able to preserve these materials that serve as a living record of life on campus at a particular moment in time and culture," she said.
The SSU library's Special Collections department would like to hear from former students, including those directly involved in the time capsule project — about your dreams, your concerns as a student, and your reflections on life now, almost 30 years later. 
You can contact us via email at specialcollections@sonoma.edu or via the Student Voices: An SSU Community Archive project webpage (https://library.sonoma.edu/collections/special-collections/student-voices).
Anybody interested in viewing the items can contact Special Collections. However, the physical material is mostly not intact - much of it is represented by the digital copies since there was so much mold and water damage to the originals.
*M.E.Ch.A's name in the article reflects how it was referred to in 1994. Presently, it goes by Movimiento Estudiantil Chicanx de Aztlán.
**The proposal was retrieved from the Library's University Archives