The ribbon is cut and classes are now in session!
As the first building on our campus, Stevenson Hall has always been central to the Sonoma State community. Whether you're an alum who spent many hours learning and studying in Stevenson, faculty and staff who enjoyed careers there, or a campus visitor to the many offices or lecture spaces in Stevenson Hall, this iconic building has shaped your SSU memories.
Now, after a stunning $90-million renovation, Stevenson Hall will continue to transform the experience of many new generations.
For the latest Story from Sonoma, we dive into how our community came together for this new era at SSU.
Last month, there was a palpable and positive energy in the air as hundreds of students, alumni, faculty, staff and community partners gathered in awe for the ribbon-cutting ceremony to commemorate the reopening of the completely transformed academic building.
"Stevenson Hall is and will always be a true hub for dialogue and academic endeavors," said Interim President Mike Lee, raising a pair of giant scissors in the air as the crowd roared with appreciation. With the 8-year, $90-million renovation from loveable concrete bunker to state-of-the art and soon to be first LEED-certified building on campus complete, classes are now set to be in session. The Noma Nation couldn't be more inspired – and they let us know on social media:
carmen_m_valverde: Can't wait to visit Stevenson Hall. Most of my undergrad and all my grad classes were in Stevenson. #icon
plantopia21: Yay!!!!! So happy can't wait to visit again! C/O 2004
guyfoxco: Wish it was renovated when we went there  looks awesome! #GoSeawolves
Leigh-Anne Flores Mateyka: Wow! Beautiful remodel. I remember running out of Stevenson Hall during the Loma Prieta earthquake in 89!
Galaxia Conrad: What a transformation!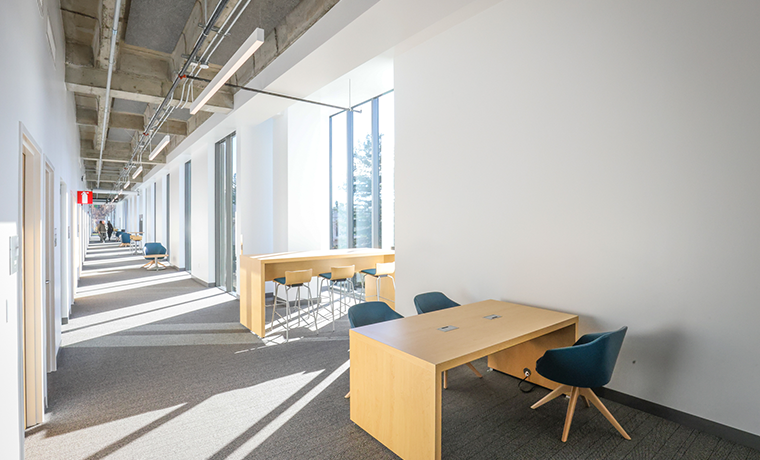 Natural light fills the hallways.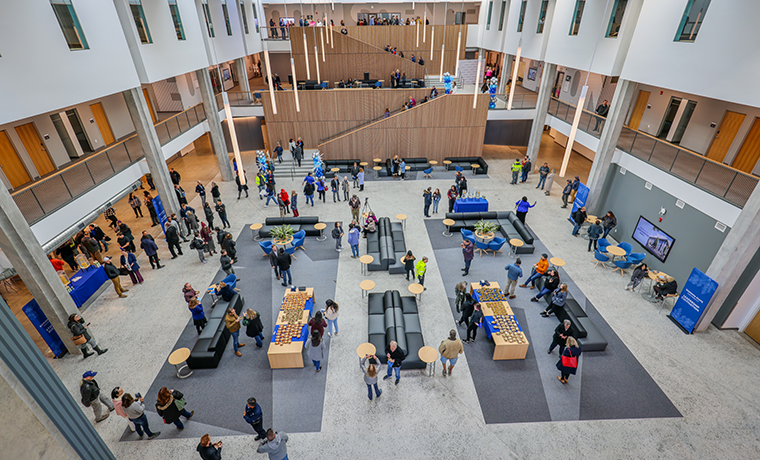 A view of the atrium looking south toward Nichols Hall.
Built in 1967, Stevenson Hall was the very first – and largest – academic building constructed on the Sonoma State campus. Named for American politician and diplomat Adlai Stevenson II, and houses the Schools of Education, Social Sciences, and Business and Economics. Over the decades, academic accolades and nostalgia aside, Stevenson Hall quickly earned the infamous reputation for being the big bunker on campus. An honest and earnest soul-searching SSU internal report acknowledged that the uninviting Stevenson Hall had a few problems and was "performing poorly from an energy, lighting, exiting, plumbing, comfort, acoustics and ventilation standpoint."
Obviously, it was time for a makeover. After 10 years of thoughtful and transparent planning, SSU broke ground on the $90 million renovation in November of 2020. The renovation was intentionally designed to be the university's first LEED Gold sustainability standard building, taking advantage of natural sunlight throughout, using green materials and enhancing energy efficiency.
Critics have taken note: "Now, the building is a technologically and acoustically state-of the-art structure, big on sustainability… and awash in available light that penetrates deep into its 130,000 square feet," reported the Santa Rosa Press Democrat in December, noting Stevenson Hall's features of inclusivity such as gender-neutral restrooms and lactation areas.
Divided into three floors, the New Stevenson Hall now houses 22 general purpose instruction classroom and lecture spaces. Seven of the classroom spaces have HyFlex technology designed to maximize quality for both in-person and online learning experiences. Art lovers will enjoy the Mischief Makers exhibition on the first floor which welcomes visitors on their way to interdisciplinary lecture rooms and School of Education specialty classrooms.
Stevenson Hall is the university's first building to meet the LEED Gold sustainability standard.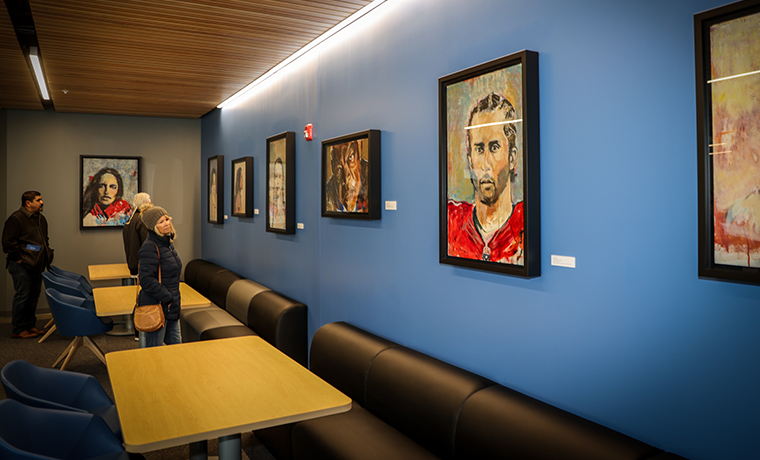 Pieces from the "Mischief Makers" collection by Joan Baez are on display.
An Urban Design studio is housed on the second floor, alongside a Physical Geography teaching lab and shared workrooms, kitchenette and printing centers. And on the top third floor where the School of Social Sciences faculty and staff have their brand new offices, there are counseling labs, a publication studio, more printing centers and conference rooms that can accommodate large think tank groups or more conversational one-on-one brainstorms.
A student visiting from out of state to attend the Oxford Consortium For Human Rights co-hosted by SSU at Stevenson Hall said it best, while taking a short break from a workshop.
"Wow, there's something about this building that really makes it easy to find focus."