SSU students, faculty, and staff rallied Thursday, October 5 in gratitude for Sonoma State University donors, who in 2022-23 alone gave $11 million to support scholarships, programs and initiatives.
During the third annual "Seawolves Say Thank You" event, some donned boas and Seawolf paws for thank-you photos and videos while others posted "paw print" notes of gratitude. Messages included broad thanks "for making SSU a better place," many personal notes saying "I/we would not be here without your support," and one heartfelt "Thank you for giving me a home." The energy was fueled by personal pizzas donated by Mountain Mike's Pizza.
Among the many gifts that made 2022-23 a success, here are three community members – ranging from an SSU professor to a North Bay resident with no formal SSU ties – whose gifts will be transformational to the university. They exemplify the faith and investment in Sonoma State expressed by its supporters, who were 2,350 strong last year.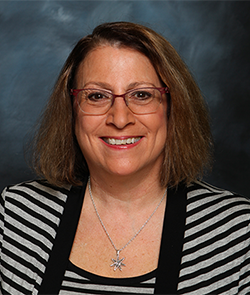 Dr. Lynn Cominsky, SSU Professor of Physics and Astronomy and Program Director of EdEon STEM Learning Center, created a generous estate gift to ensure EdEon continues the work she started. During her distinguished career, Cominsky garnered more than $35 million in grants to create K-12 astronomy education; to operate a robotic telescope that's used by high school and college students nationwide; and, more recently, founded NASA's Neurodiversity Network to support students on the autism spectrum and encourage them to embark on careers at NASA and in other STEM fields.
Among many awards, Cominsky was named Professor of the Year by the Council for the Advancement and Support of Education (1993) and was given the Wang Family Excellence Award from the California State University (2016). She is a former member of the Sonoma State University Foundation Board of Directors.
With this gift, Dr. Cominsky's life work will continue to impact SSU students and science education worldwide. – Vice President for Advancement Mario Perez
Diane Johnson, former board member of the Johnson Scholarship Foundations (JSF), made a $400,000 gift focused on scholarships for underrepresented students from Healdsburg and its surrounding areas. The scholarship gives priority to students affiliated with Corazon Healdsburg, a not-for-profit human rights organization in the North Bay. The first three Corazon student scholarship recipients entered Sonoma State in fall 2023, and an annual cohort of Corazon students is expected thanks to the program.
"Among the affluence of our region are thousands of young people ready to be our community's next leaders – they just need support," said Khou Yang-Vigil, Director of Equity and Access Programs, in recognition of the scholarship gift.
Melody Ann Palmer, a North Bay musician and philanthropist, made an unexpected $4-million donation to SSU's School of Education and the Center for the Performing Arts through her estate. Palmer, a San Rafael resident who died in October 2021 at the age of 62, notably had no formal association with SSU before making the generous donation. 
Laura Alamillo, Dean of the School of Education, and Ed Beebout, Interim Dean of the School of Arts and Humanities, said that about 80% of the $4 million will be placed into endowments to support future projects and programs, while the remainder will be used for current priorities.
"When community members invest in teacher education … they are investing in children," Alamillo said. Provost and Vice President of Academic Affairs Karen Moranski added, "This gift will provide scholarships and arts programming that the campus and community need and will sustain the performing arts for years to come."